Yep, Baloo's back and is guest-posting this. Slowly on the mend from a hospital stay. Well, I found this title on the net, and, being a cartoonist, was intrigued. Who might these sixteen cartoonists be? Did they include only cartoonists who changed the world in their
role
as cartoonists, like Nast or Segar? Or did they also include people who changed the world in other ways who happened to
be
cartoonists also — Like Hugh Hefner, Ben Franklin, Martin Luther, and, when you think about it, Walt Disney?
Who would be on my list? Certainly the ones I just mentioned, and I'd be strongly inclined to toss in Walt Kelly, Miyazaki, Eisner, Carl Barks, and Irving Tripp. But let's ask Monte Beauchamp — He wrote a whole
book
about it:
Who could have predicted that two Depression-era teenagers from Cleveland, Ohio, with an unbridled passion for creating comic strips would change the world! The birth of Superman, America's first superhero, was not easy. There was plenty of failure along the way. Because of the undying commitment to their vision, history was made.
On the road to becoming a global icon, Walt Disney became a four-time business failure. In the midst of a stinging betrayal, the determined animator gave birth to a legend—Mickey Mouse.
A midwestern dreamer tried to carve out a career as a gag cartoonist but didn't have the artistic chops to pull it off. Hugh Marston Hefner soon found himself trapped in a bad marriage and a career he didn't like.
Then, in the winter of '52, the distraught 26-year-old stood on a bridge staring out over the Chicago River and, with tears in his eyes, said to himself, "I've gotta do something."
Weeks later he conceived of a men's lifestyle magazine called Playboy -- and utilized it as a forum to champion cartoons.
The story of cartoons -- the multibillion-dollar industry that has affected all corners of our culture, from high to low -- is ultimately the story of the artists who pioneered the form, and the story of the enduring characters they created: Mickey Mouse, Superman, and The Cat in the Hat, to name a few.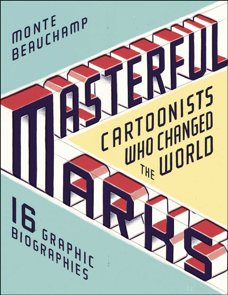 Monte Beauchamp's Masterful Marks: Cartoonists Who Changed the World is available from Amazon.
I began the work of my book, Masterful Marks, by piecing together a list of cartoon genres -- comic books, syndicated comic strips, animated cartoons, anime, manga, graphic novels, caricature, gag cartoons, and children's picture books -- and identified the creators who most influenced or revolutionized each category. That's how the story of this book began to unfold.
Under "comic book," for instance, Siegel and Shuster -- the creators of Superman -- held court. In the subgenre of underground comix, Robert Crumb is the acknowledged father. No one could have known that when the struggling young illustrator self-published Zap Comix #1 in 1968 and began hawking copies in San Francisco's Haight-Ashbury district, history would be made. Crumb's Zap gave rise to an entire generation of comix artists who challenged the tyrannical editorial grip of mainstream comic book publishers.
In the October 1, 1972, edition of The New York Times Magazine, Thomas Maremaa wrote that "Crumb brought 'trash' art into the cultural mainstream and made it respectable."
"Crumb is like Johnny Appleseed," commented Gary Arlington, the owner and operator of the San Francisco Comic Book Company. "He's spreading the seeds of the new consciousness. You'd have to say that he's in the same category as Bob Dylan."
The influence of comix on comics gave way to a hybrid, alternative comics, from which arose a vibrant new genre: the graphic novel.
Or did it?
Read the rest here: